Streaming Video Quality Test QoS
With new higher bandwidths, new real time multimedia services have been developed. The expectative for these services is a rapid growth, and to ensure the mobile customer enjoys the experience, streaming data transfer has to be tested continuously using a reliable and efficient system.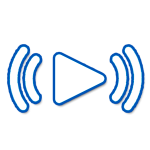 Services

Audio/Video Streaming.


Content

3G Live TV.

Recorded Video.


Network

Network Availability.
Service Non-Accessibility (%)

Service Access Time (sec)

Session Cut-Off Ratio (%)

Reproduction Cut-Off Ratio (%)

Audio Quality (MOS audio)

Video Quality (MOS video)

Audio/video synchronization (%)

Reproduction Start Failure Ratio (%)

Reproduction Start Delay (sec)
Test starting time stamp.

Test ending time stamp.

Connection time stamp.

Time stamp to play.

Number of times the buffer gets empty.

Received audio traces.

Audio/video bytes received.

Audio/video packets lost.

Number of unsorted audio/video packets.

Number of total video packets received.

Average size of total audio/video packets received.

Maximum/average delay of arriving audio/video packets.

Number of unsynchronized audio/video packets.

Test verdict.
Enables true E2E streaming quality assessment in mobile applications.

Helps controlling and checking Media Platforms.

Increase customer satisfaction and use.

Helps monitor new media services before commercial launching.

Real-time problem detection.
Streaming rates.Streaming download, storage and validation.

Service Accessibility checking.

Industry Standard protocols supported (RTP/RTSP/RTD).

TCP / UDP supported.

Packets received, sent.

Packets delays, lost.

Reproduction tests.

Time measurements.

Predicted MOS Values for Audio&Video QoS.