Network Test Service QoS
The rapid growth in cellular voice services has led to high user penetration. From a user perspective, there is now a growing demand for value-added non-voice services, not fully covered by the standard GSM infrastructure due to its circuit switched nature.GPRS and UMTS networks have been developed to give these services to the customer. These arguments are enough as to take special attention on GPRS and UMTS networks availability and performance.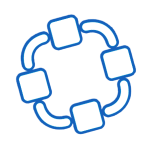 Services

GPRS Attach.

UMTS Attach.

PDP Context Activation.

2G/3G interoperability.

Coverage levels.

Radio network selection.

Cell parameters.

Operator selection


Network

Roaming Round Trip Time.

Interoperability.
Registration failure ratio (%)

Registration time (sec)

PS Attach time (sec)

Network response time (sec)

Radio selection failure ratio (%)

PDP Context Activation Failure Ratio (%)

PDP Context Activation Time (sec)
Test starting time stamp.

Test ending time stamp.

Time to attach.

Time to detach.

Round Trip Time.

GSM Network coverage level.

Signal strength indication.

Network status indication.
Automated testing.

Enhance GPRS/UMTS Networks reliability.

Measure GPRS-UMTS data performance (as received at the service delivery point).

Set KPIs to track performance evolution.

Competitive benchmarking.

Check correct Network operation after "SW Upgrades & New SW Releases Roll-outs".
Detailed test reports.

Multiple access point nodes testing.

Attach-detach testing.

Context activation checking.

Full session logging.

Data (transfer) rates measuring.

WAP access monitoring.

HTTP access monitoring.

FTP access monitoring.