Airscout: Automated Wi-Fi® Readiness Solution
Service providers have found that simply looking at Signal Strength measurements and using a single instrument is not a true measure of the Wi-Fi user experience in the home. Current workflows results in un-characterized Wi-Fi environment causing high amount of customer service calls and truck rolls.
AirsScout
 provides an automated solution that surveys the residence from Layer 1 all the way through to the application layer. Providing technicians with a tool that distills complex measurements into easy to understand metrics; enabling technicians to convey to consumers whether their applications are supported where they need it.
This 2 minutes vídeo outlines benefits of AirScout.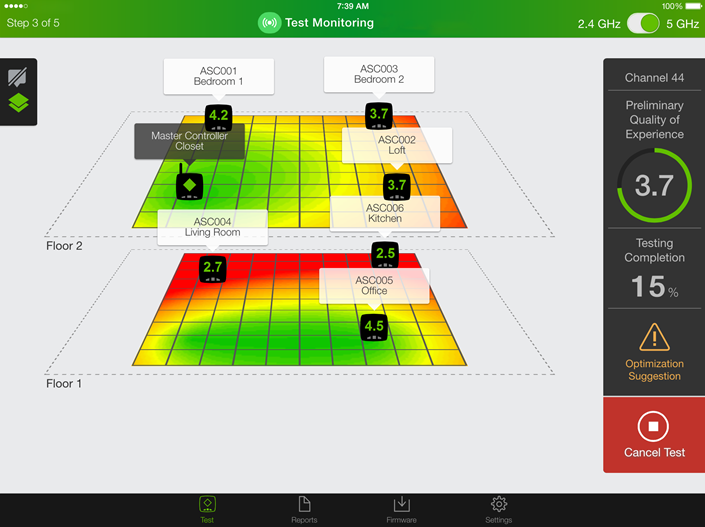 Optimize access point location and settings

Opportunities to offer additional hardware (e.g. second AP or repeaters)

Improving the quality of experience of Wi-Fi in homes and small businesses

Reducing fault reports related to wireless LAN (Wi-Fi)

Less frustration for end users

Higher customer approval ratings.

Reduction of customer «churn»

Allows retention of installation records in the "cloud" for future reference by customer services
Multiple client devices (up to 30)

"Hands-off" automated testing

Simultaneous testing from multiple locations

Layer 1 through Layer 7 Active testing and analysis

Multi-dimensional mapping on things such as Applications (HD Video, 4k Video)

Intelligent channel selection

Identifies Optimal Access Point location

Application Support on iOS & Droid Tablets

Customer friendly on-screen report to explain the whole-home Wi-Fi readiness

Automatic "over-the-air" software updates pushed from tablet to devices