Profile
Since 1989,
Ibys Technologies
is present in the Telecommunications Arena supplying leading Quality of Service (QoS) Testing Solutions.
In 1994 it pioneered Automated End to End Service Testing for Telecom Operators.
Our Mission is to assist our customers in supplying greatly improved data and voice services by objectively enhancing the end-user experience, and in the process, generating a higher degree of satisfaction and greater use of available services. In the ever growing Telecommunications Industry and rapid development of Services, our focus is on customer needs by being at the forefront of QoS ringing our expertise to provide leading edge QoS testing solutions for present and future Challenges.
Customizing the needs
Today's Technology, Customer's needs and Business challenges, are all in a continuous move. How can the operator balance these issues to provide Services that reflect the Social and Commercial needs of their markets? Telecom operators are in a race to provide broadband services to the handset, under the present Convergence environment. They need solutions to handle and control this fast evolving scenario, that are flexible enough to evolve with it.
Proven Technology
Ibys Technologies has a proven track record of pioneer solutions for QoS testing for different technologies, and has been providing flexible, scalable and customizable solutions to fix and mobile operators for more than 15 years. Having gained a very high degree of market understanding, we provide latest Technology Service Testing solutions to the Telecom operators, enabling them to smoothly move from 2G to 3G technologies and also its related services such as MMS, i-mode, video-telephony, IVR, roaming, PTT, etc.
Optimizing Operations
Fix and Mobile operators are facing today a more complex Network, a much more competitive business environment, and are under permanent pressure to increase profit margins, while optimizing Capex and Opex. This business model requires optimized OSS solutions and High Integration level among all elements providing a view on the Network and Services Performance to the operator, in order to take the right operational decisions. In this context SLAs play a Central Role in the business plan of both Operator and subscriber, as much as Content quality and billing assurance. By offering a flexible and scalable solution for End to End QoS Testing, Ibys Technologies provides the platform to validate Services, Contents, Billing and Network. Ibys Technologies provides to the Telecom Operators' industry a complete Solution for automating the measurement of the performance and availability of the Services they offer to their subscribers, Network–wide. The Xplorer System enables the Operator to adapt and build new services testing, across Technologies, in an easy and scalable manner. This cost effective remote monitoring of the Quality and Availability of wireless services enables Fix and Mobile Operators to validate theirServices, Content, Billing and Network.
Expertise and focus
Operators are no longer in a situation to develop their own in house solutions for testing Services. The need for expertise across different technologies and the growing complexity of the services require the contribution of an outsourced focused expertise, with Flexibility to integrate the existing OSS platform and partner with global players.
The Xplorer Platform
Our Xplorer System provides End to End automatic QoS testing and Real Time Performance KPI. Our portfolio of Remote units, both stationary and portable make our System highly scalable, and able to fit different customer needs, specially when Deploying new areas for Service coverage or Disaster Recovery Testing.
Building scenarios across technologies
Xplorer Platform enables the operator to reproduce real network complexity while creating End to End testing scenarios. Do you want to verify the access to News Service at 15h pm? Xplorer will access the WEB, register in the service, get SMS for acknowledge and reproduce Videostreaming all at once…
Solution areas
Each of our solutions enables the operator to optimize the performance of existing Services. TheXplorer Solution provides tools to cover different areas of Concern for the Telecom Operator.
Our International Presence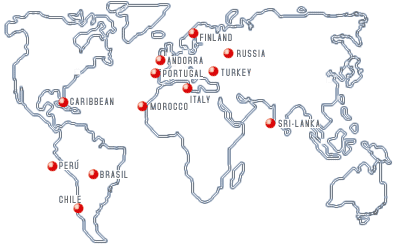 Ibys Technologies
C/ Vía de los Poblados 1 – Ed. B – 3ºA
Parque Empresarial Alvento
28033 Madrid
Spain
Tel: +34 913 885 400
Fax +34 913 004 282
mail: admin@ibys.com
Our people